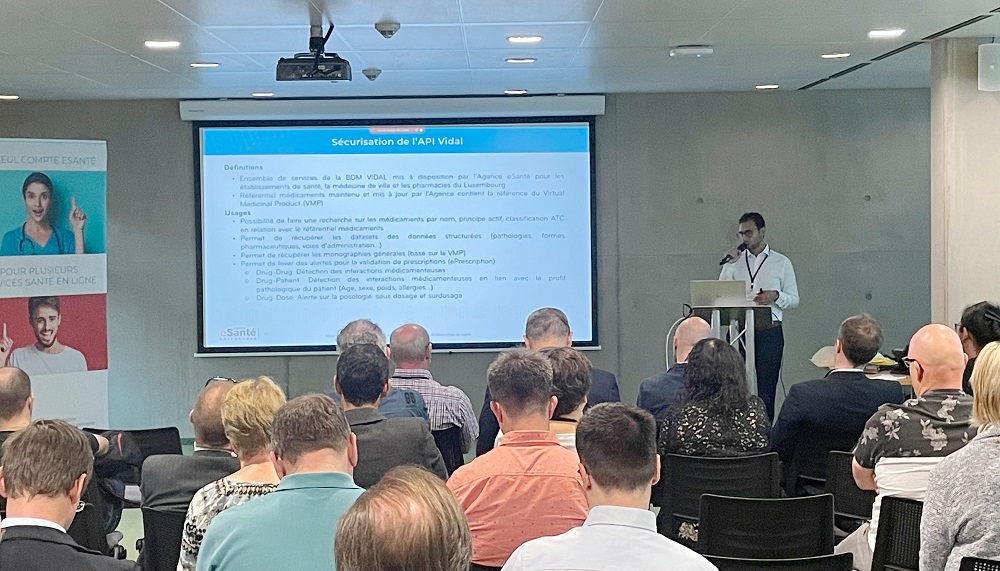 More than 80 people attended this meeting, which took place at the "House of BioHealth" in Esch-sur-Alzette. Several staff members presented the progress made in relation to the Agency's main services, namely the DSP (Dossier de Soins Partagé – electronic health record), the CVE (Carnet de Vaccination Electronique- electronic vaccination Record) and ePrescript, the electronic prescription service that is about to be rolled out.
The meeting was also an opportunity to present the eQualis test laboratory (a department of the Agency which awards a label for interoperability and security) and the Living Lab, which aims to bring together different actors in the field of connected health with a view to supporting them in the development of innovative solutions promoting the digitalisation of health.
Other topics that were also discussed were:
the scalability of the platform,
the security of services
making the patient's identity reliable
and awareness of data protection principles
External partners also intervened: Nicolas Claudon and Philipp Jaeggi - Laboratoires Réunis, and Nicolas Hesse - BioNext Lab, for a demonstration of the FHIR (Fast Healthcare Interoperability Resources) standard applied to the Agency's services.
After the meeting, the members of the agency had the opportunity to exchange ideas with the participants present, which further strengthened the cooperation.
To download the full presentation click here.